Popular Packages


All our packages are designed with our clients in mind. We offer gentle, client-directed assistance, always mindful of needs and income.
---
---

TRANSPORTATION & APPOINTMENTS
Getting Around is available hourly, with no additional kilometer charges within the local radius. This includes, shopping, errands, outings... basically anything outside the home requiring a driver.
Affordable Hourly rate

HoneyDo FLAT RATE RETURN service is designed to offer an economical, reliable way to get to one-stop return appointments (ie. medical check-ups, recurring events, etc.)
How it works: We pick up at our client's doorstep, providing caring escort into the vehicle and the appointment. We accompany our client for the duration of the appointment and return-escort home, with safe, gentle assistance back inside.
Base pricing calculated on min 2 hr. returns
* DISCOUNTED pricing for longer periods also available - please call us for details!


---
IN-HOME SERVICES
This includes all non-medical tasks from housekeeping to cooking, laundry to reading, and everything in between. We are your extra pair of hands when you need that added bit of assistance. Best of all, you'll see one regular HoneyDo Assistant for all your "Grandma Approved" one-on-one services.
Affordable hourly rate

* Please ask about our Home Advantage & Home Advantage Plus packages *
- for those who prefer regular monthly HoneyDo service -
---
GROCERIES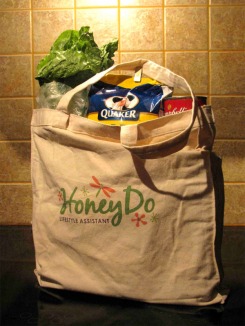 Weekly Shop & Drop – clients can call or email their grocery order to us for door-to-door delivery!
A HoneyDo Assistant will do the entire shop (which can also include prescription pick-up as required), with delivery to their door and the option of put-away service.
Our HoneyDo Shopping List is included!
Cost of groceries + delivery fee

CompanionShop – on a pre-arranged day and time, a HoneyDo Assistant arrives to escort the client into the vehicle and the grocery store of their choice. The Assistant will guide them, assisting with their selections, purchase, bagging and safe delivery back home. Put-away service optional.
Affordable Hourly rate
---
---
E-VENTS CALENDAR

HoneyDo is committed to keeping local seniors connected to their family, friends and community.
We are working on creating a 12-month E-vents calendar with engaging activities for seniors to enjoy in and around their community...check back often to review the upcoming year!
---
---
We love a parade!
We see you cheering us on! NICE JOB!!

Look for us in this year's May Day Parade!CLICK HERE tor May Day Parade pics!CLICK HERE TO WATCH OUR VIDEO!

A SPECIAL gift for
NEW CLIENTS Download your exclusive coupon here
---
---
604-809-7605 ~ info@honeydolifestyle.com
~ Serving Ladner/Tsawwassen ... and Beyond ~

* We proudly recognize veterans by accepting VETERANS ID CARDS *